School is never closed...
Posted May 3rd, 2009 by The Maze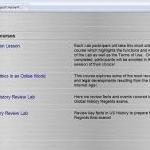 We have recently been impacted by the Swine flu and advised by our District that we may have to close if their is an outbreak.  This can have a significant impact as we only have approxinately 7 weeks until final exams and several new topics to cover.  Not to worry!  I told my students that we will still learn online by utilizing our online learning Lab which I have created in Moodle.  The Mastery Review Lab is a Moodle site where I have created online course modules for my students in each of the subjects I teach.  With this online space I create videos which I post to review various topics as well as lessons where students can post their work via a drop box.
Using a tool like Moodle will help us to finish the material we need  to cover if we are forced to close.  Let's keep our fingers crossed that we will not need to do so!
Here's the link!  www.masteryreview.com
School never closes when you have online options!