NYSCATE Award!
Posted November 27th, 2008 by The Maze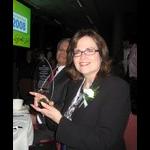 I wanted to take a minute to thank NYSCATE (New York State Association for Computers and Technologies in Education) for their recognition in the Lee Bryant Outstanding Technologist Award for 2008.  This award goes to a teacher who has implemented technology in an outstanding manner to improve student learning and I am very honored and appreciative of the recognition.
It has been an amazing few months since the launch of this site and my use of podcasts in my classroom.  I remember just last March 2007, as I first heard about podcasting, and began to imagine the possibilities in my teaching.  It has been a very busy year, but worthwhile as I have seen the results in the test scores as well as overall success of my students!  All of my US History students passed the NYS Regents exam this past week.  I am pleased most of my students tackled the exam with confidence with the tools we added to our program this year.  It is very gratifying to see all of my kids, including inclusion students formerly in self contained classrooms, now succeed in a Regents exam! 
Thanks so much NYSCATE for the award and their mention of our site!  I also want to thank all of the supporters of this site over the past year! We see this as a strong beginning, and look forward to your help as well in the future.  Remember, collaboration is key!
Thanks again!
Sue Palmer